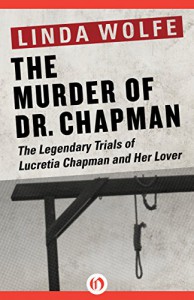 Synopsis: In 1831, Lucretia Chapman, wife, mother to five, and founder of Philadelphia's first boarding school for girls took in a Cuban lodger and her life was never the same. Participating in a torrid love affair that concluded with the murder of her husband.
My rating: 3 stars

My opinion: This was an amazing story. It blows me away that when I look at crimes in our society and then read books like this and realize that they happened in past as well.
Ms. Wolfe has presented a well researched book that depicts the lead up and aftermath of the murder. On that note, it did have significant periods of dryness that I didn't expect in this book.

Source: Publisher for review

Would I recommend? : Yes, with the caveat to push through the slower sections.

Stand Alone or Part of a Series: Stand Alone